---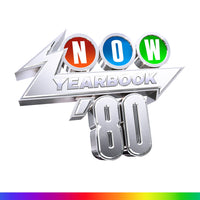 NOW Music is proud to present the newest addition to the 'Yearbook' series: NOW – Yearbook 1980. Tracks that defined the charts in 1980.
Kicking off with Queen's anthem 'Another One Bites The Dust', Disc 1 includes massive hits from Kate Bush, Madness, Roxy Music and the Top 40 debut from Adam and The Ants, alongside #1s from Blondie, Dexys Midnight Runners, The Jam and ABBA – plus the decade's first new #1 'Brass In Pocket' from Pretenders – and 1980's biggest selling single 'Don't Stand So Close To Me' from The Police. Lipps Inc., Diana Ross and Sheila & B. Devotion had timeless floor-fillers – and synth driven pop, that would come to dominate the charts of the early 80s , fuelled iconic hits for Orchestral Manoeuvres In The Dark, Gary Numan, Ultravox and the debut from Spandau Ballet… and to close the first disc, three of the year's biggest love songs from KC and The Sunshine Band, Randy Crawford and Billy Preston & Syreeta.
Disc Two begins with John Lennon's '(Just Like) Starting Over' and is followed by huge trans-Atlantic hits for Paul McCartney, The Rolling Stones and Billy Joel. Rock legends had a huge year in 1980 – including here, Status Quo, Rainbow, Judas Priest and Motorhead. Disc Two is also home to some of the year's biggest dance tracks from Donna Summer, Change, The Whispers, The Gap Band, Jermaine Jackson and the #1 'Working My Way Back To You / Forgive Me, Girl' from The (Detroit) Spinners.
In January 1980 the iconic 'London Calling' from The Clash reached its chart peak – and opens Disc 3 which features an incredible line-up of New Wave, Post Punk and Ska classics that helped make 1980 a fantastically diverse year in the singles charts: #1s from The Jam (again!) and The Specials (as The Special AKA) alongside Elvis Costello & The Attractions, Joy Division, Ramones, Hazel O'Connor, Siouxsie And The Banshees, Martha And The Muffins, UB40, and The Selecter.
The final disc features six of the year's #1s and is all about 1980s pure pop, beginning with one of ABBA's most successful and popular tracks 'The Winner Takes It All', and the beautiful 'Waterfalls' from Paul McCartney. Olivia Newton-John, Blondie, and Sheena Easton follow and lead into party classics from Kelly Marie, The Nolans, Liquid Gold, Odyssey, and Kool & The Gang. A few easy-pop gems from Andrew Lloyd Webber & Marti Webb, Rupert Holmes, Captain & Tennille, plus the 1980 Eurovision winner Johnny Logan, the #1 theme from 'MASH' 'Suicide Is Painless' and bringing this collection to a close … the perennially popular and timeless 'Stop The Cavalry' from Jona Lewie.