---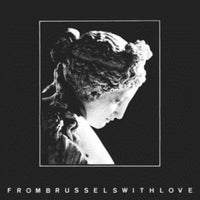 Les Disques du Crepuscule present a deluxe reissue edition of iconic compilation From Brussels With Love. Bearing the catalogue number TWI 007, From Brussels With Love was the very first release on Crepuscule back in November 1980, and is now celebrating its 40th anniversary.
Originally released as a cassette with a 16 page booklet packaged in a PVC wallet, From Brussels With Love featured 21 exclusive tracks from the international avant-garde and new wave, as well as contributions from the celebrated Factory Records roster. Then, as now, the featured artists include A Certain Ratio, Gavin Bryars, Harold Budd, Thomas Dolby, Dome, The Durutti Column, John Foxx, Martin Hannett, Richard Jobson, The Names, Bill Nelson, Kevin Hewick + New Order, Michael Nyman and Der Plan.
Running for 78 minutes, the cosmopolitan 'cassette journal' was curated by Michel Duval, Annik Honore and Wim Mertens, and also includes extended interviews with Brian Eno and legendary French film actress Jeanne Moreau. The cover art is by Jean-Francois Octave, with additional artwork in the booklet by Benoit Hennebert, Marc Borgers and Claude Stassart.
2CD - Deluxe earbook edition (TWI 007 CD) presented as a 10-inch square hardback book, with two full length audio CDs and a 60 page book including rare images, posters, sleeve designs and period ephemera, plus a detailed history of the Crepuscule label between 1979 and 1984, with contributions from Duval, Honore, Mertens, Octave, Hennebert and photographer Philippe Carly.
CD1 includes all 21 tracks from the original cassette. CD2 includes tracks omitted from TWI 007 for reasons of space, as well as related Crepuscule tracks by Michael Nyman, Bill Nelson, John Foxx, Richard Jobson, Durutti Column, Repetition and The Names, and contemporary songs by other Belgian artists including Digital Dance, Polyphonic Size, Aksak Maboul, Karel Goeyvaerts and Marine.