---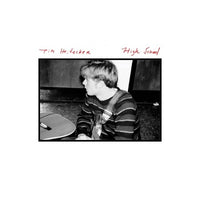 Produced by Heidecker, Drew Erickson, Eric D. Johnson and Mac DeMarco, High School sees Heidecker emerging as an increasingly playful and poignant story teller, infusing childhood tales with new gravity.
After initial and fruitful sessions with Jonathan Rado, Heidecker started recording tunes with DeMarco and Erickson, who had also worked on 2020's collaboration with Weyes Blood, Fear of Death. At DeMarco's studio, they added drum machines and synths and sidewinding solos to Heidecker's big strummed chords. Johnson (Bonny Light Horseman, Fruit Bats) helped Heidecker finesse the tunes even more, making the music as rich as the feelings. Kurt Vile contributed to one song, as well. Through all those sessions, it slowly became clear: Heidecker was writing not only about the adventures and misadventures of life as a Pennsylvania teen in the early '90s, but also how it felt to lose a juvenile sense of mystery and possibility as an adult. He was writing about high school and, really, the way it helped shape everything else.
Back at Pennsylvania's Allentown Central Catholic High School, Heidecker dreamed of making it with one of his many rock bands — Time and Other Things, Shaggy's Beltbuckle, and (incredibly) The Pulsating Libidos. Two years shy of his graduating class' 30th anniversary, Heidecker admits he had little of substance to say when he was 17, like all but the rarest of precocious minds. In college, though, he found the friends with whom he built his comedy career, largely apart from music and without much thought for his time back at Central Catholic. He was focused on his future. It is fitting, then, that as Heidecker has become such a delightful singer-songwriter and collaborator, he returns to the first scene of his time as a musician. Maybe he's right — he didn't have anything to say or sing about life back then. But across the earnest and amusing High School, he finds plenty to say about those weird and wonderful and ordinary times.