---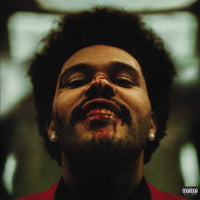 For the first time since the release in March, The Weeknd's number one album 'After Hours' is finally here on a double disc LP.
The Weeknd is the alias of alternative Canadian R&B enigma-turned-pop star Abel Tesfaye, whose aching accounts of emotionally and physically toxic indulgences have translated into mass recognition. The singer and songwriter made his early-2010s breakthrough with morose ballads that seemed to have no designs on mainstream appeal. Within a few years, however, he was at the top of the charts and the rest is history.
Fourteen tracks total, Including 'Heartless', 'Blinding Lights' and 'After Hours'.