---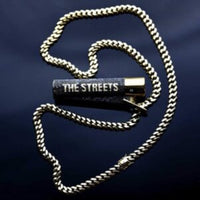 The return of Mike Skinner. The 12-track mixtape marks The Streets' first album in nearly a decade and features collaborations with the likes of Tame Impala, IDLES, Hak Baker, Ms Banks, Donae'O, Kasien, Dapz on the Map. and many more.
Tonga, the balloon filled rap, grime and dubstep party by Mike Skinner and Murkage Dave, had been a series of shoobs to remember. Copenhagen to Manchester to Berlin. Brum to Brixton. Usually arriving with a coterie of legendary UK figureheads and gobby upcomers in tow, like Kano, Giggs, Jammer or Jaykae, the pulsating essence of the nights needed to be immortalised.
The original plan had been to release a Tongs album. But as night moved to day, and day moved along to night, it… just didn't happen. Instead, a new mixtape titled None Of Us Are Getting Out Of This Life Alive steps up to take its place. Recorded between work on his film and accompanying solo The Streets album, it is the unpredictable sonic continuation of those parties.
Taking in UK Funky and twilight zone UK rap, and with guest spots ranging from Grammy nominated psychedelia sovereign Tame Impala to cult south London rapper Jesse James, as well as 2019's key-fiend-friendly drum'n'bass collab with Chris Lorenzo, None Of Us Are Getting Out Of This Life Alive is the most eclectic and highly collaborative collection of songs from The Streets yet. Or as Mike puts it with characteristic distinction: "it's really just a rap duets album."