---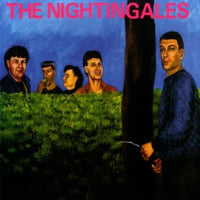 The Nightingales' last original full-length for two decades stands as the final masterpiece postpunk album released before the C86 era. Back on vinyl for the first time in over 3 decades, the reissue is updated to include the whole of the 1985's 7" single "It's A Cracker" and "What A Carry On" 12" EP, plus a clutch of rare tracks never before released on vinyl and a bit of history from Robert Lloyd.
Despondently anti-Thatcher and with an air of hopelessness, In The Good Old Country Way has the sense that time was allowed for experimentation and reflection during its creation. Expectations were high as The Nightingales released their sole Vindaloo album and possibly the most underrated album of the postpunk era.
The opening number is heavy on the hoedown, not unlike records their pals The Mekons would release around the same time - a rootsy underlayment to songs of wit, energy and observation, adaptable both to lengthy groove-based observation and high-octane rants alike. Maria Smith's violin weaves in and out of songs, while the rhythm section of Pete Jenner (bass) and Ron Collins (drums) hold what might have been a disjointed mess, but it's multi-instrumentalist / arranger Pete Byrchmore who shares the spotlight with Lloyd.
"It's A Cracker" stuns, not stylistically dissimilar to their recent records for the first ninety seconds, though featuring a bridge hinting at new developments in their sound which could be heard on the next Nightingales release, 'What A Carry On'. A sublime record, it features the powerful title track in two version, one of the band's best songs, "Comfort And Joy", and the tenderly alienating "First My Job".