---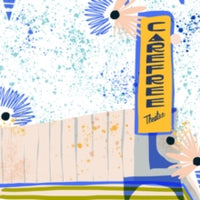 The Carefree Theater in West Palm Beach, FL was the only real venue in town for most of John Paul Pitts childhood. It was where he would go for anything from shows to theatrical productions. It was just the kind of exposure that showed him there was a whole world outside of Florida, the kind of experience that would inform a twenty-one year old student to drop out of school and start a band.
He did just that. Surfer Blood's rise was remarkable – and just recently recounted in detail with the 10 year anniversary of their debut and breakout album Astro Coast. A decade ago. That's a long time. Where a lot can happen.
Surfer Blood release Carefree Theatre an album that bring them full circle. Pitts returned to Florida, returned to Kanine and created an album worth of short pop songs.