---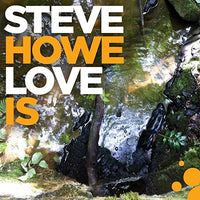 To any rock music fan of the last 50 years, Steve Howe needs no introduction. Best known as the guitarist for progressive rock band Yes, he has enjoyed a prolific recording and performing career spanning five decades. In addition to his solo work, Steve has released more than 50 albums with bands such as Yes and Asia and guest appeared with the likes of the Royal Philharmonic Orchestra, Lou Reed and Queen.
Love Is is Howe's 17th solo record, comprising ten songs: five with current Yes singer, Jon Davison, singing harmonies and playing bass guitar and five instrumental tracks rotating through the running order. The instrumentals keep a highly progressive rock guitar style to the fore, with songs that explore stories of lives lived and lives only just beginning. Love Is A River is the central track, with several textural shifts, featuring a theme played on 12 string and steel guitars. Steve's son, Dylan, features on drums.
Many years in the making, Love Is offers a consistently strong and polished listening experience, forging the very best from the writing and playing throughout.