---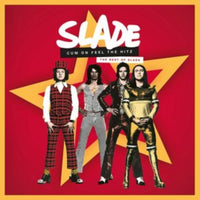 Slade are without doubt one of the most exciting bands to come out of Great Britain. With their unique blend of perfect pop-rock'n'roll, outrageous flamboyance and pure fun, Slade have become a firm favourite in the hearts of pop fans all over the world for nearly fifty years.
Slade achieved their first chart hit in May 1971 with the Bobby Marchan song Get Down And Get With It then, released in October of the same year Coz I Luv You was the band's first of 6 UK #1s. They racked-up an impressive 16 UK Top 10 Hits and became a mainstay of music television of the area with their defining performances on the likes of Top Of The Pops setting the fashion trends of the time.
Throughout the seventies, Slade became one of the UKs biggest bands, touring and recording continually. Slade's catalogue of hits are synonymous with the era:- Take Me Bak 'Ome, Mama We'er All Crazee Now, Cum On Feel The Noize, Gudbuy T' Jane, along with the many others provided a soundtrack to the Glam Generation and are still today, heavily influential to their peers and the generation of musicians they spawned. To quote Noel Gallagher: "No Slade = No Oasis. It's as devastating and as simple as that". Bands as diverse as Nirvana, The Sex Pistols, The Clash, Def Leppard, The Ramones, Kiss and many more have sited Slade as influential.
Cum On Feel The Hitz is the definitive Slade best of album and marks 15 years since their last singles collection.