---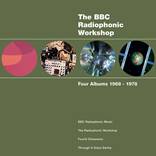 A special collection of the 4 main RWS CDs + 2 rare and collectable bonus discs one featuring the Stone Tape, the other features Changes. These have never been available on CD before! All 6 CD are in card wallets, and a booklet, all within a box.
BBC Radiophonic Music is the first compilation of music released by the BBC Radiophonic Workshop. It featured music by three of the Workshop's most prominent composers, John Baker, David Cain, and Delia Derbyshire. The album was originally released by BBC Radio Enterprises in 1968 to coincide with the Workshop's 10th anniversary, and later re-released in 1971 on the BBC Records label.
--
Fourth Dimension is a 1973 BBC Records release featuring recordings created by the BBC Radiophonic Workshop composer Paddy Kingsland. Although it was credited to "The BBC Radiophonic Workshop" it was the work of Kingsland alone, and was the first album of Workshop music to feature only one artist. It features theme tunes used by BBC radio and television.
--
The Radiophonic Workshop is a 1975 compilation album by the BBC Radiophonic Workshop, similar in concept to the earlier BBC Radiophonic Music of 1971. The album featured a variety of work demonstrating many of the various techniques the Workshop used. Unlike its predecessor though, it was far more synthesiser orientated.
--
Through A Glass Darkly is a 1978 album by Peter Howell and the BBC Radiophonic Workshop. It featured six original instrumental compositions including "Through A Glass Darkly - A Lyrical Adventure", a 19-minute track which took up the whole of the first side of the record. Much of the music on the album leaned far more towards the prog rock of the 1970s than the previous output by the Radiophonic Workshop.