---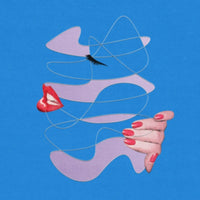 On their debut full length, Gentle Grip, Public Practice re-animate the spirit of late '70s New York with their playfully angular brand of no wave-meets-funk and dark disco. If you love Talking Heads, Bush Tetras, Parquet Courts or Savages this will blow your mind.
While magnetic singer and lyricist Sam York and guitarist and principal sonic architect Vince McClelland (who both played together as members of the meteoric yet shortlived NYC post-punk outfit Wall) take an almost anarchic approach to songwriting, Drew Citron, on synth and bass, and drummer / producer Scott Rosenthal (both previously of Brooklyn indie-pop favourites Beverly) bring a more traditional, pop sensibility to the table. These contrasting styles challenge and complement each other, resulting in a sound that is full of spiraling and exhilarating tensions.
Lyrically, York explores the complexities and contradictions of modern life overtop grooves and choruses that disarmingly open up the doors to self-reflection. "You don't want to live a lie / But it's easy / Your house is important / Your car is important / Your shoes are important / Dinner's important" she sings on Compromised, begging the question: how does one balance material desires with the desire to be seen as a good person? Changing pace, the supremely groovy My Head is about tuning out the influx of external noise and staying true to your inner creative force.
But whether they are poking holes in commonly held ideas centered around relationships, creativity, or capitalism, Public Practice never lose sight of the fact that they have fun, and they want you to have fun too. After all, who needs a soapbox when there's a dark, sweaty dancefloor out there with room on it for all of us?