---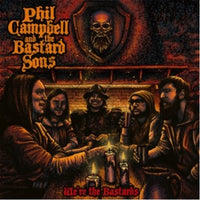 Fast forward to 2020 and, just like everyone else, Phil Campbell and the Bastard Sons had to cancel a lot of carefully-laid plans when the global pandemic descended on us all. But as if to confirm their absolute dedication to blowing people's heads off with thunderous rock'n'roll, the band refused to cancel plans to record a follow-up to their widely lauded debut. Recorded and engineered during lockdown by guitarist Todd Campbell, the second Bastard Sons album may be just the tonic people need right now. It's called We're The Bastards and it's bigger, better and even more raucously uplifting than its predecessor. In fact, it's the sound of a great band hitting their stride and buzzing with confidence.
Kicking off with the anthemic bluster of its title track, We're The Bastards is instantly recognisable as the work of the band that brought us previous ragers like Ringleader and Get On Your Knees. But it's also a much more diverse and adventurous affair, as Starr and the Campbells expand their vision to include a greater sense of dynamics and atmosphere and even. Contrasting the expected fiery, bellow-along gems like Son Of A Gun and Bite My Tongue, the swaggering, bluesy Born To Roam and the hazy stoner rock stomp of Desert Song point to an instinctive grasp of Americana's influence on heavy rock. Similarly, there's a world of difference between something as gritty and gung-ho as the two-minute Destroyed and the spacious and epic grunge squall of closer Waves. But the Bastard Sons' self-evident shared chemistry and abundant charisma ensure that everything slots neatly into place on a wonderfully cohesive piece of work that feels like a sincere celebration of rock's uplifting power.
One of the most explosive album openers in recent memory, We're The Bastards neatly encapsulates the Bastard Sons philosophy while also being a very obvious and magnificent instant live favourite. Neil Starr admits that there was only ever one possible option for the new album's title, even if he can't take credit for it himself!
One enormous favour the band have done themselves this time around is nominating guitarist Todd Campbell to record and engineer the new material at his studio in Wales. We're The Bastards sounds absolutely huge and wonderfully vibrant and alive: a dazzling showcase for the talent in the Bastard Sons ranks. Mixed and mastered by Soren Anderson (Glenn Hughes/The Dead Daisies/The Answer) it's such a powerful and convincing leap forward for all concerned that we can only imagine how frustrating it is to be releasing it into such a strange, gig-less world. This is music that demands to be recreated amid the chaos and joy of a live show. Eventually, of course, it will be.
We're The Bastards is exactly the turbocharged kick up the arse we all need while we wait for our rock'n'roll family to be reunited. Play it loud and be ready!