---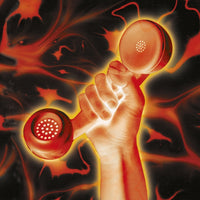 The album has been Half-Speed Remastered and cut to lacquers at 33RPM, across 2x heavyweight LPs, to deliver maximum dynamic range in the sound. Vinyl cut by Matt Colton at Alchemy Mastering, mastered by Tony Cousins at Metropolis and overseen by Peter's main sound engineer Richard Chappell. The album looks amazing with a wide-spine single sleeve and full colour printed inner bags. This is the first time that Secret World Live has been available in vinyl, with the LP designed by Marc Bessant at Real World.
Secret World Live contains 16 tracks from the Secret World tour of 1993 the extraordinary live tour, conceived by Peter Gabriel and Robert Lepage, that accompanied the release of Peter's sixth solo album, US. Recorded over two nights in Modena in northern Italy, the collection spans Peter's solo career until that point; from debut single Solsbury Hill right up to Digging In The Dirt, Steam and Blood Of Eden from US. With a thoroughly committed and total performance Peter further consolidated his reputation as a ringmaster of dynamism and daring.

The touring band captured by the recordings consists of Peter, alongside Manu Katch (drums), Tony Levin (bass and backing vocals), David Rhodes (guitar and backing vocals), Jean Claude Naimro (keyboards and backing vocals) and Paula Cole (vocals). With a special guest appearance by Papa Wemba and Molokai.