---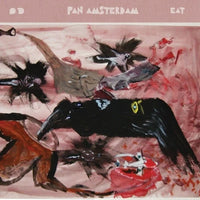 Eat is the brand new album from your favourite rapper trumpeter, Pan Amsterdam. Made with fans of both food and hip hop in mind, the LP opens up a new pocket in the Pan Am dimension: the rapper-producer album. The whole thing's a collaboration with underground legend and Def Pressé family Damu The Fudgemunk.
Eat
 lands in the wake of the success of Pan Am's second album, HA Chu. Food, of course, was a vital component in the culture of that work, with GUTS-produced single Carrot Cake receiving plaudits from the likes of BBC 6 Music, and interludes taking place over Chinese food. HA Chu was named his 'hostile industry diss record' by Bandcamp and 'a jazz musician's vision of what hip-hop can be' by The Times.
Whereas HA Chu was conceptualised while Pan Am's real life alter ego Leron Thomas was on tour as Iggy Pop's bandleader (Iggy had loved Pan Am's debut LP, The Pocket Watch, leading to him asking him to write and produce his 2019 album Free), and saw guests such as Sleaford Mods' Jason Williamson and Doves' Jimmy Goodwin in his El Diablo guise, Eat's genesis was slightly different
Perceiving the world in terms of taste, 
Eat
 is musically wistfully joyous and lyrically playful, a full menu with Pan Am your maître d' and Damu the chef du cuisine. Damu's beats are deep, warm, melodic and progressive, a perfect playground for the duality of Pan Am's beat poetry and Leron's caressing trumpet, which as always is a persona in itself.