---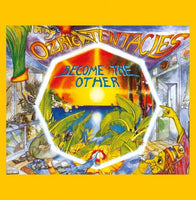 One of the most influential bands to emerge from the UKs festival scene, the Ozrics layer ambient and ethereal landscapes with freeform dub trips, incredible rave grooves and psychedelic progressive rock. It is an open exploration of music and the soul.
The band's first release after Merv Pepler and Joie Hinton left to form Eat Static, Become The Other still possesses the cool, psychedelic spare rock of its predecessors. With hints of techno, psybient and world music, the album kicks off with some fine guitar and bass on 'Cat DNA', followed by the atmospherics of 'Ahu Belahu' and 'Ghedengi'. 'Wob Glass' is all synthy techno whilst 'Neurochasm' is a cool trippy rock track and so very Ozrics. The title track visits reggae with lengthy finishers 'Vibuthi' and 'Plurnstyle' both smorgasbords of classic Ozrics sounds.
And that is Become The Other in a nutshell: everything you would expect of an Ozrics album, but not sounding exactly like any other Ozrics album. It may not get the attention of the albums Ed Wynne and Co released in the previous 6 years, but it is right up there with them.
Become The Other, a 2LP set presented in wide spine packaging with a D side etching, will be released on yellow vinyl as the third title in the Ed Wynne remasters series on Kscope.