---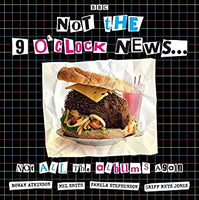 "Not the Nine O'Clock News gave the world alternative comedy and made the media scene we have today." - Mark Lewisohn, Radio Times Guide to TV Comedy.
Let the famous signature tune take you back to the heady days of 1979, when Labour gave way to the Conservatives, striking workers had created the winter of discontent, and Not The Nine O'Clock News inherited the BBC2 time slot vacated by Fawlty Towers. It quickly became a trailblazing smash hit, running for four series and making stars of Rowan Atkinson, Mel Smith, Pamela Stephenson and Griff Rhys-Jones.
Among the many famous, and much-loved, sketches included on the LPs are David Bloody Attenborough (aka Gerald the Gorilla), Points of View, General Synod's "Life of Python", Constable Savage, University Challenge, Hi-fi Shop, That's Lies, Not The Parrot Sketch, Open Marriage, Question Time, Game For A Laugh, Two Ninnies, McEnroe's Breakfast, What A Load Of Willie, The Pope's Visit, Simon and Garfunkel and - yes - the return of Constable Savage.