---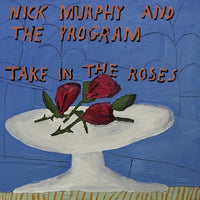 Australian singer-songwriter Nick Murphy, known professionally as Chet Faker, along with newly developed band The Program, released their debut album together titled Take In The Roses. Modeling a softly accentuated and harmonic true to Murphy's usual vibe, this album is reminiscent of a long car drive through the desert as the sunsets. The producer, multi-instrumentalist Dave Harrington, heavily contributes to the feel the instrumentals provide through the use of percussion. Both Murphy and The Program bring something new to their development as artists.
The opening song, "Take In The Roses," introduces the melodic tone instantly to let the listener know what to expect. It's almost melancholic in a way that reminds one of a time of introspection or the sound of rain on the windowpane. Murphy beautifully captures this as he layers his voice over the percussion and piano chords. "Feels Like Coming Home" is very similar to the reflective, percussion-filled tone but just a bit more upbeat. The tambourine especially stands out in this track.
"Get It Wrong" is a complete 360 compared to the rest of the album. It has a much more indie/rock/pop kind of feel that throws off the flow in a way. While the track is a lot of fun, it may not particularly belong in Take In The Roses.
"Morning Meditation" gives exactly what its title suggests. With just pure instrumental bliss and not a lyric or vocal, the heavy use of violin is sure to carry one to a meditative space. This song is perfectly placed after a reflective, snappy tone song like "Feels Like Coming Home" to provide a sense of balance. "Things" is another track that embraces the intricacies of instruments and just how dynamic they can be. Although both of these songs are very soft, they are executed very differently from each other. The influence of Dave Harrington becomes quite clear in moments such as these throughout the project.
The collaboration between these three entities (Murphy, Harrington and The Program) proved itself to be creative and cohesive. Take In The Roses is a seamless blend of instrumentals and heart-wrenching vocals that shows the different sides of each contributor.