---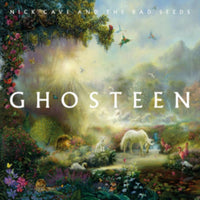 Ghosteen is the new two part album from Nick Cave and The Bad Seeds. Ghosteen is the seventeenth studio album from Nick Cave and The Bad Seeds, following 2016's Skeleton Tree. The album was recorded in 2018 and early 2019 at Woodshed in Malibu, Nightbird in Los Angeles, Retreat in Brighton and Candybomber in Berlin. It was mixed by Nick Cave, Warren Ellis, Lance Powell and Andrew Dominik at Conway in Los Angeles.
Ghosteen sees Cave restrained and introspective, half singing, half speaking over a mix of piano and slow drifting electronics. He sounds vulnerable but not beaten. There are a lot of mentions of love in the lyrics, soft supportive backing vocals and an attractive warmth to the way Galleon Ship's high synth sounds open the song wide, or the surprise falsetto he acquires late on in Sun Forest.
It's a double LP with one album of conventional length songs then on the second - one short song and two of 12 and 14 minutes. They are more complex and grand. There's a lot to take in but it's totally absorbing.