---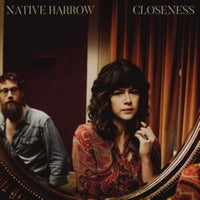 Closeness

, the fourth LP from Pennsylvania's Native Harrow, elaborates on the duo's radiant warmth and timeless nostalgia with the inclusion of new sounds and experiences. The combustible fuzz-driven opener 

Shake

 gives way to slices of 70s FM groove (

The Dying of Ages

 and the desert funk of 

If I Could

), 60s art pop (

Even Peace

 and the expansive orchestral 

Sun Queen

), and the kind of graceful folk (

Smoke Burns

) and folk soul (the compassionate conviction of

 

Carry On

) the band is best known for. The intricate polyrhythms and grinding Moog synthesizer (

Same Every Time

), the fully realized vintage jazz combo (

Turn Turn

), and the exquisite piano ballad (the penultimate 

Feeling Blue

) provide glimpses down previously unexplored streets and find the band stretching out and confidently illuminating their expansive aspirations.