---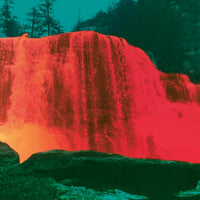 Back in 2014, the members of My Morning Jacket arrived at Stinson Beach, a tiny Northern California town set right on the ocean and near the majestic Muir Woods. Massively inspired by their idyllic surroundings, the Kentucky-bred five-piece ended up creating over two dozen songs at the mountaintop studio known as Panoramic House. Though they flirted with the idea of putting out what would have been a triple album, the band ultimately decided that less would be more and divided the project into two halves, releasing the first segment as 2015's The Waterfall. My Morning Jacket now share the second half of the project as The Waterfall II, an unforeseen and timely continuation of a psychic and sonic journey begun long ago.
Opening with the profound reverie of Spinning My Wheels, The Waterfall II endlessly illuminates My Morning Jacket's eclectic sensibilities, encompassing everything from lilting sunshine-pop to fantastically ramshackle rock and roll. While the album slips into heavenly psychedelia on tracks like Feel You (a mesmerizing epic James developed deep in the Muir Woods), a more ominous tone permeates Magic Bullet and its rattled response to gun violence. An intimate documenting of keeping an open heart in the face of devastation, The Waterfall II embodies a wistful longing on Run It (a song about "the desire to disappear and turn back into water," according to James) and later gives way to overwhelming gratitude on Welcome Home (a portrait of "coming home from tour feeling so sad and defeated and lonely, but realizing how much love I was lucky to have in my friends and family"). And on The First Time, My Morning Jacket close out the album with a sweetly rambling meditation on the possibility of finding love again, channeling both ineffable sorrow and wide-eyed hope to incredibly glorious effect.
Even in its most heavy-hearted moments, The Waterfall II radiates an undeniable sense of wonder, a testament to the wild-mindedness that's long imbued the music of My Morning Jacket. With their unabashed curiosity infinitely stirred by their time at Stinson Beach, the band hopes that the album might lead others to look beyond what's human-made in the search for solace and renewal.