---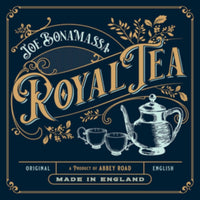 The wait is over, Joe Bonamassa's new solo studio album Royal Tea was recorded at the legendary Abbey Road Studios. Bonamassa is known for taking risks and venturing into uncharted territory throughout his wide-ranging career but now he has found a new way to surprise his fans and music lovers. Royal Tea brings Bonamassa full-circle.
This album reconnects the 43-year-old with the guitar-slinging kid from upstate New York, who stumbled across the Jeff Beck Group, John Mayall and The Bluesbreakers with Eric Clapton and Cream in his dad's vinyl collection – whose British blues influences have shaped him to be the player he is today. Naturally, the backdrop of Abbey Road demanded an album of British-flavoured blues. But even before the sessions, Bonamassa immersed himself in the culture, living in London over summer 2019 to let the capital's pulse and daily rhythms flow down his antennae, wash over his songcraft and spice his new material.
These ten original tracks were co-written by Joe and a cast of homegrown notables including former Whitesnake guitarist Bernie Marsden, ex-Cream lyricist Pete Brown and national-treasure piano man Jools Holland.