---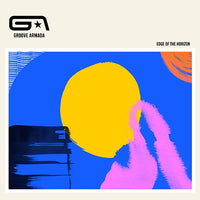 As always with Groove Armada it's a melting pot of styles, but in contrast to the guitar laden sound of their last album, the Grammy nominated Black Light, the uniting stylistic thread here lies somewhere between Hall and Oates, Prince and Roxy Music.
Edge of The Horizon features a whole range of vocal talent, from friends and neighbours to the godfather of UK Garage Todd Edwards who appears on Lover 4 Now. A summer anthem of positivity, love and togetherness, Todd's signature vocals shimmer above a straight-ahead Italo-disco groove. It was made with a moment in mind.

Groove Armada's flair for blending electro elements with the energy of a live band remains at the heart of the record. In fact, the foundations of this album are the memories of the 15 years they spent on the road playing dance music live. The legendary GA tour bus parties had a strong dose of yacht rock on the playlist. Holding Strong is an unashamed salute to the best of those searing emotional highs of the 80s. NYCs She Keeps Bees heads up the title track, born out of a groove left on the cutting room floor during the chaotic Black Light sessions.
Chicago house music icon Paris Brightledge deploys his iconic tones on two tracks, and Empire of The Sun and Pnau's Nick Littlemore features on the lockdown anthem, Get Out on the Dancefloor.