---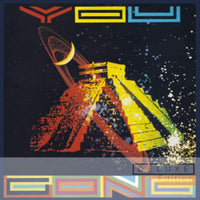 Gong's 3rd album for Virgin Records has been remastered from the original Virgin master tapes for the very first time by the original producer, Simon Heyworth, and has been expanded with a live concert recorded live at Hyde Park in London in June 1974 plus an Alternate Version of A PHP's Advice and a rare version of Where Have All The Flowers Gone?.
The final installment in the Radio Gnome Invisible trilogy, often considered the most sophisticated and best-produced Gong album. One of the wackiest and most innovative groups of the early Seventies, Gong's communal lifestyle and fascination with Eastern mysticism epitomised the hippy ideal of the day. Their music blended jazz-influenced space-rock, psychedelia and bizarre experimentation with a distinct sense of humour.
Recorded in late 1973, You is the final instalment of the group's Radio Gnome Invisible trilogy, made up by the earlier albums Flying Teapot and Angels Egg. It was the last Gong album made before the departures of both its founder member and driving force daevid Allen and its inspired guitarist Steve Hillage, who was soon to embark on his highly successful solo career.
You is undoubtedly the most sophisticated and best produced Gong album, its highlights including Master Builder, a gentle Buddhist chant which developed into a frantic live favourite, and the extended, synthesizer-driven A Sprinkling Of Clouds.