---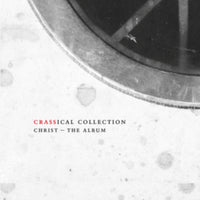 Christ – The Album is number four in the revisited Crassical Collection. This double CD presentation contains the 2009 remastered original Crass album on CD1 and, on CD2, Well Forked, But Not Dead, a compilation of related tracks created throughout the recording of 'Christ – The Album', plus a fold-out poster and an illustrated booklet containing lyrics and contextual notes.
The album took over a year to record, produce and mix, during which time the Falklands War had taken place. This caused Crass to fundamentally question their approach to making records, for as a group whose very reason for existing was to comment upon political issues, they felt they had been overtaken and made to appear redundant by real world events.
Ratcheting up the continued "leave no stone unturned" lyrical approach that characterized the group from the start, Crass again sounds like the group's about to explode in eight million directions. Ignorant takes over the lead vocal role again, his rough ramalama bitterly leading the charge against the loathed Thatcher government and the society that allowed it to come into power. Libertine, here appearing as Peeve Libido, adds backing vocals while De Vivre takes the lead on Birth Control and Sentiment. Free's guitar work roars along with the usual vim, as does the Pete Wright aka Sybil Right / Rimbaud rhythm section, while continual spiking of the musical punch via production or sonic collages, or even almost power pop catchiness at points, prevents things from being one note.
Released 02/10/20