---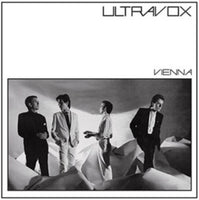 Ultravox's Vienna album was originally released in July 1980, their first with Midge Ure on vocals / guitar. Produced by legendary German producer Conny Plank (Neu!, Kraftwerk), it reached number 3 in the UK album chart and top ten in Australia, New Zealand and several European countries.
The album contains 4 UK Top 40 singles; All Stood Still, Passing Strangers and Sleepwalk (which was recently reissued as part of Record Store Day 2020) and the title track Vienna which reached No.2 in the UK and Top 10 in seven countries around the world. The single went on to sell over half a million copies in the UK.
2LP - This new vinyl edition has been mastered and cut at half-speed by Alchemy Mastering using the original 1980 production tapes. The second bonus vinyl includes single versions and b-sides from the 4 singles released from the album, including a previously commercially unreleased US Promo Edit of Vienna, which is exclusive to this edition.
6CD - The set is packaged in a 12"x12" Rigid Slipcase and contains a 20 page 12" square booklet featuring notes from the band, unseen photos from Midge Ure's and Chris Cross' personal collection, four A4 Art Prints and 6 discs in card wallets housed in two 12" gatefold album sleeves.
This new 6 Disc box set contains 66 tracks, 44 are previously unreleased recordings or mixes. CD's 1 to 5 contain the original 1980 album production master, a new stereo mix by Steven Wilson, A-sides, B-sides and live tracks, 2CDs of previously unreleased cassette rehearsals and a newly mixed concert from St. Albans in 1980. The DVD (Audio Only) contains a new 5.1 Surround Sound Mix of the Album / B-sides by Steven Wilson along with 24/96 Hi-Res audio of the new mixes and the original 1980 Master / B-sides.