---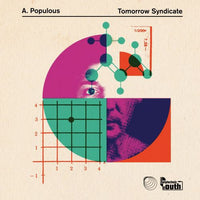 Label: Polytechnic Youth
Glasgow's always wonderful, new 'sci-fi pop' kids-on-the-block return with an ace new 45 for Polytechnic Youth. Two fabulous tracks recorded pre lockdown, but which act now, say the band "as a perfect soundtrack to these surreal times". Both tracks unique to this stand alone release, as the band knuckle down on recording the next full length.
A side Populous has already attained 6music radio play and the bands' self made video has been given video of the week thumbs up on 2 online blogs- and merges perfectly with sleeve art created once again by the always great Nick Taylor. A fabulous synth pop track, totally befitting the current climate.
The instrumental flip Living in a Simulation, brings to mind a long lost La Dusseldorf demo given a modern reworking- punchy, kraut infused synth pop acting as a perfect foil to it's flip. Lovely stuff once again and like everything by artist and label; expected to sell out swiftly upon release. Pressing of 300 on vinyl only.