---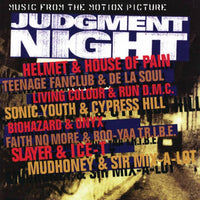 The 1993 film Judgment Night was suburbia's paranoid view of inner-city life, where the slightest misplaced step (such as trying to take a shortcut to a boxing match) has fateful, if not fatal, consequences. And what better music to accompany this middle-class nightmare than a hybrid of the music suburbanites seemed most afraid of; Rap and Rock.
The soundtrack to Judgment Night has had a lasting impact thanks to its ground breaking approach. The collaborations were put together by Happy Walters, who at the time managed Cypress Hill, House Of Pain and more, and was still getting his Immortal Records label off the ground.
With a track list that teamed Helmet with House Of Pain, Slayer with Ice-T, Faith No More with Boo-Yaa T.R.I.B.E. and Pearl Jam with Cypress Hill, among others, the album represented a bold leap into a then fledgling genre that up until then had mostly been a collection of one-off singles.
It turned out to be quite a fruitful collaboration; while the film bombed, the soundtrack went gold. Judgment Night spawned four singles: Biohazard and Onyx's Judgment Night, Helmet and House Of Pain's Just Another Victim, Teenage Fanclub and De La Soul's Fallin' and Faith No More and Boo-Yaa T.R.I.B.E.'s Another Body Murdered. It also features that highly sought after collaboration between Pearl Jam and Cypress Hill and Ice-T and Slayer manage to thrash it out on an unsurpassed level!
Available as a limited edition of 5000 individually numbered copies on flaming (orange and yellow swirled) vinyl.