---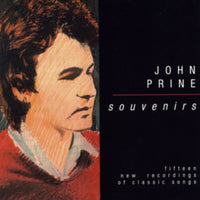 When John Prine wrote and recorded the likes of

 

Hello In There, Angel From Montgomery

, and 

Souvenirs

 in the early '70s, he came across like a social security recipient in a young man's body. As he revisits those tunes and more favorites from his salad days, the wisdom Prine possessed as a twentysomething troubadour seems all the more remarkable. the raison d'tre for souvenirs may be rather prosaic. Prine rerecorded 15 early classics so that he could own master recordings of a bunch of songs from his first three albums, as well as a few stragglers from the late '70s and early '80s, but the flatteringly spare arrangements and Prine's wizened delivery only add weight to these heavy-hearted folk tunes. "It took me years to get those souvenirs / and i don't know how they slipped away from me," Prine sings on the title track, a remnant from 1972's 

Diamonds in the Rough

. well, John, they didn't slip away at all; they're still shining like gems under a layer of dust.