---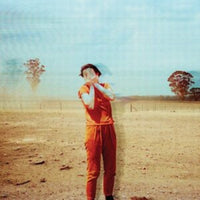 Losing someone close to you creates an almost phantom limb-like effect. Often, it feels like they're a phone call away. But that instant between when you reach for the phone and when your brain delivers the new reality to you is a strange, momentary eternity. It's both an uncompromising void and maybe as close as you'll ever come to communing with that loved one again.
Gordi wrote Sandwiches as a tribute to the matriarch of her family. Her late grandmother was, in Gordi's words, "a great feeder of people." So when she fell ill, Gordi and her mother took it upon themselves to nourish the visitors gathered around her hospital bed. As they passed around sandwiches, "someone called out that she was gone."
Gordi called on long-time collaborators and Bon Iver production duo Chris Messina and Zach Hanson to make Sandwiches at her family home in Canowindra, Australia — an old cottage littered with some of Sophie's favorite pieces of musical arsenal combined with some flown in from Eau Claire, Wisconsin. The tiny farm town where her family has lived for over a century, Canowindra, and the heart of the matriarch, is embedded in this song.