---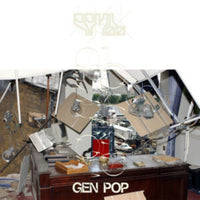 Gen Pop started in Olympia, Washington in 2016. Four faces in the same mirror all with a different reflection. It's not high-brow or low-brow but unibrow. Don't bother making musical comparisons, speak instead in terms of the mood, which, for lack of a better term, may be described as "tense". We've all had the feeling of careening headlong into a wall, eyes wide but seeing nothing, so you'll know what to expect.
Sometimes the horrible paths we take will lead us to the mundane. It also feels as if we can be led to the same point to an ecstasy of truth and joy. After 2 E.P.'s and a handful of tapes Gen Pop uses all paths to create a unified sound. On PPM66 their first full length, winding bass lines and vulnerable unaffected leads mark late 70s power pop sensibilities with the purity of enthusiasm that has come to be Gen Pop's calling card.
PPM66 draws from all avenues of sound to create a paced out record that is looking for sonic utopia but sobers into an auditory hallucination. This record focuses on the person. Of course, in the time and space outlined by this recording we find the individual difficult to lock down. Defined by their paranoid tirades and meticulous hygiene, grocery lists and disheveled minds, the characters we meet oscillate between the familiar and the bizarre, often in the span of a single song. With dreamlike insubstantiality, they constantly morph and gyrate, their innumerable facets twinkling in the stark light of the examiner's scope.
For fans of Swell Maps, Buzzcocks, Eddy Current Suppression Ring, Jay Reatard.