---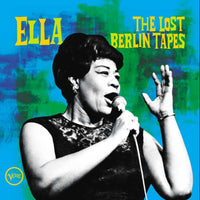 Recorded in 1962 but never released, hear the most popular jazz singer of all time deliver an iconic performance at Sportpalast Berlin for the first time Ella and her band at the top of their game. With only two songs repeated from her hit record Mack The Knife two years earlier, this undiscovered recording stands on its own.
The Lost Berlin Tapes were recorded – incredibly in both mono and stereo – at Berlin's Sportpalast on March 25, 1962 and finds Ella at the top of her game with a trio led by pianist Paul Smith, Wilfred Middlebrooks on bass, and Stan Levey on drums.
There was just something about Berlin that brought out the best in Ella. In February of 1960, she gave a concert at the Deutschlandhalle, which became one of her best-known and best-selling records, Mack The Knife: Ella in Berlin. The album won her 2 Grammys, it went on to be inducted into the Grammy Hall of Fame.
Two years after that historic concert, Ella returned to the city at the height of her career, in the midst of her most extensive European tour to date. Flanked by her stalwart rhythm section including pianist Paul Smith, bassist Wilfred Middlebrooks and drummer Stan Levey, Ella delivers an energized, top-of-her-game set a month before her 45th birthday.
Ella Fitzgerald The Lost Berlin Tapes is a jewel in the treasure chest of impresario and Verve Records founder Norman Granz's private collection. As Ella's manager, he had a habit of recording Ella live – sometimes for radio broadcast, sometimes for later release, sometimes just to have. This particular recording was amazingly done in both mono and stereo – and on this March evening at Berlin's Sportpalast, Ella delivered, singing some lesser-known gems as well as the hits.
One of those hits was Mack The Knife. Ella famously flubbed the lyrics in the known 1960 recording, and two years later, nails them. But – she forgets the name of the town she's in. On the recording, she charmingly says, "Ladies and gentlemen, I'm so embarrassed. This is where the first time I sang Mack The Knife and when I got to the part of the town, I couldn't think of it!" The audience is enthralled, nonetheless.
That unique charm, energy and skill are palpable throughout this live recording. She opens with Cheek To Cheek, followed by the rarer He's My Kind of Boy. After her behind-the-shoulder scat-heavy salute with Jersey Bounce, Ella shifts to a heart-wrenching ballad of the Great American Songbook, Angel Eyes. Ella also sings the Ray Charles hit Hallelujah, I Love Him So, singing a reprise that shows Ella's improvisational skills.