---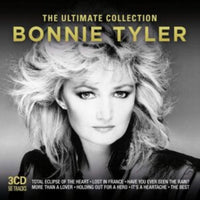 Boasting 50 tracks across three CDs, BONNIE TYLER - THE ULTIMATE COLLECTION is an in-depth overview of Bonnie's career.
Disc One focuses on Bonnie in her 80s and 90s pomp, across six albums recorded for the CBS and Hansa labels. 'Total Eclipse Of The Heart', a transatlantic #1 single as well as a huge seller across Europe, is a natural place to start, and her signature song. Other highlights include 'Holding Out For A Hero' from the Footloose soundtrack 
Disc Two turns its attention to original material from the first four studio albums, recorded for RCA Records between 1976 and 1981. The two top ten smashes were 'Lost In France' and 'It's A Heartache', with many more high quality songs to discover. Casual fans will find plenty to delve into.
Disc Three looks at Classics and Duets. Bonnie's distinctive voice has been heard on many a standard through the years. She was the first to record 'The Best', later a hit for Tina Turner, and other classic covers featured on THE ULTIMATE COLLECTION include '(You Make Me Feel Like) A Natural Woman', 'You Are So Beautiful', 'Don't Turn Around' and 'Piece Of My Heart'. The third disc also features 'Loving You's A Dirty Job (But Somebody's Got To Do It)', recorded with Todd Rundgren, and the top five hit 'A Rockin' Good Way' with Shakin' Stevens.
Released 02/10/20