---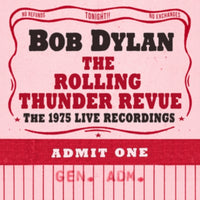 Monumental 14CD Box Set Includes 5 Complete Bob Dylan Sets From Rolling Thunder Revue Concerts Spanning October-December First Leg, Rehearsal Performances, Rarities And More.
A comprehensive anthology of music from the mythic first leg of Bob Dylan's groundbreaking Rolling Thunder Revue, this 14CD box set includes all five of Dylan's full sets from that tour that were professionally recorded. The collection also provides the listener with an intimate insider's seat for recently unearthed rehearsals at New York's S.I.R. studios and the Seacrest Motel in Falmouth, MA plus a bonus disc showcasing one-of-a-kind performances from the tour.
The collection features 148 tracks in all, with more than 100 of those never previously released. Included in the box set is a 52-page booklet featuring rare and never-before-seen Rolling Thunder Revue photos and a revelatory essay by novelist / musician Wesley Stace.